Complete underfloor heating
The advanced functional principle of underfloor heating:
Underfloor heating uses the entire floor space of a room. This large surface means that you feel the same level of warmth at a much lower temperature than a conventional radiator. Without comprising the warmth felt, the room temperature can thus be reduced by an average of 2°C, directly resulting in energy savings. The small difference in temperature between the floor and ambient air also makes rooms extremely cosy.
The benefits of underfloor heating:
Great level of comfort thanks to even distribution of warmth
Air hardly dries out
Economical as a result of high energy efficiency
No dust circulation
Ideal for use with alternative energy systems
No obtrusive radiators
with Perotac complete underfloor heating used as an example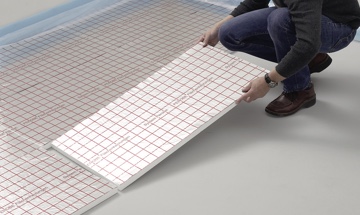 A clean and level surface is always required so that you can lay the aluminium-coated system panels as well as the edge insulation strips.
The system panels are now carefully stuck to one another using aluminium tape.
The heating tube is fastened to the system panel using retaining clips. The printed basic grid helps to lay the heating tube.
After connecting the tubes and checking that they are tight, the screed, which must contain an admixture, is applied.
Perobe's complete underfloor heating systems
PEROTAC wet system
Complete hot-water underfloor heating in a wet design for new buildings
Your benefits:
Oxygen-diffusion-tight heating tube (DIN 4726), attached to rigid foam panels; enclosed by screed
Rigid foam insulation panels made of polystyrene (thickness: 30 mm; thermal conductivity group 035)
Adhesive aluminium foil distributes and transfers heat
Easy to install; printed basic grid (5 x 5 cm) for straightforward assembly
For all surface coverings that are suitable for underfloor heating
Construction height ≥ 9.1 cm
Your benefits:
Oxygen-diffusion-tight heating tube (DIN 4726), attached to rigid foam panels; enclosed by screed
Rigid foam insulation panels made of polystyrene (thickness: 42 mm; thermal conductivity group 035)
Grid elements form a closed insulating layer and prevent heat and cold bridges from forming
Nubs help lay the tube accurately, making for easy installation
For all surface coverings that are suitable for underfloor heating
Construction height ≥ 8.7 cm
Perobe dry system
Complete hot-water underfloor heating in a dry design for old and new buildings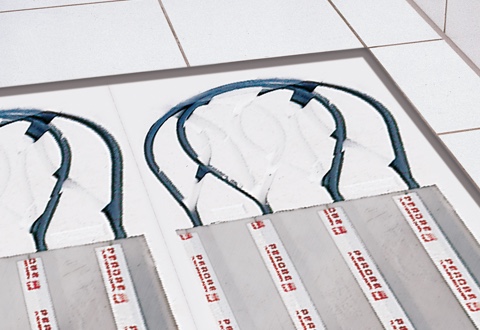 Your benefits:
Oxygen-diffusion-tight heating tube (DIN 4726), embedded in rigid foam panels; can be used with screed or dry screed panels
Rigid foam insulation panels made of polystyrene (thickness: 30 or 40 mm, grooved, thermal conductivity group 035)
Covered with galvanised panels for optimal heat distribution and transfer; for stabilising and protecting the tube
Aluminium-coated grooved panels provide insulation and tube guidance, making for easy installation
For all surface coverings that are suitable for underfloor heating
Construction height ≥ 5.5 cm