Electric underfloor temperature control
The ultra-flat electric underfloor temperature control system for retrofitting
The Perobe electric underfloor temperature control system is an ultra-flat electric thin-bed heating installation for controlling floor temperature that is incredibly small in height, easy to fit and quick to heat up, making it a perfect do-it-yourself, retrofit solution.
Maximum comfort for your home in just a few steps
The surface heating element is ideal for controlling the temperature in children's rooms, bathrooms, kitchens, hobby rooms, holiday homes, allotment huts, offices, showrooms, salerooms and basically anywhere where you want things to be warm and cosy.
Surfaces:
Suitable for all surfaces as long as they are solid, dry and sufficiently resistant to temperature.
Mat system:
The Perobe electric underfloor temperature control system consists of a ready-to-lay heating mat that has been prefabricated using special-purpose machines and is equipped with PTC resistors as connection ends. In this way, quick, error-free installation is guaranteed. The mat has also been given a VDE certification mark.
Connection:
The system is connected by means of a fixed connection via a residual current device using a temperature regulator with integrated floor temperature sensor, available with or without a timer.
Regulators:
A regulator is required for full functionality. Suitable regulators for the electric underfloor temperature control system can be found here.
Thin-bed system:
The construction height is reduced to a minimum of just 2.8 mm.
Surface:
Suitable for all surfaces.
Safety:
Safety certificate to DIN VDE 0700 + 0100; production process inspected to VDE
160 W of energy required per m²
Constructional arrangement
Expansion joints filled in with silicone joint
Floor tiles
Joints filled in with a thin flexible joint or coloured joint
Screed
Heating mat
Flexible adhesive mortar
Adjoining components and fixtures, e.g. wall
Temperature sensor
Edge strip
Concrete surface
Thermal insulation
Electric underfloor temperature control heating mat (230 V)
| Area | Dimensions | Output | PTC thermistor length |
| --- | --- | --- | --- |
| 0.5 m² | 0.75 m x 0.67 m | 80 W | 2.0 m |
| 1.0 m² | 0.75 m x 1.34 m | 160 W | 2.0 m |
| 2.0 m² | 0.75 m x 2.67 m | 320 W | 2.0 m |
| 3.0 m² | 0.75 m x 4.00 m | 480 W | 2.0 m |
| 5.0 m² | 0.75 m x 6.67 m | 800 W | 4.0 m |
| 7.5 m² | 0.75 m x 10.0 m | 1,200 W | 4.0 m |
| 10.0 m² | 0.75 m x 13.34 m | 1,600 W | 4.0 m |
Electronic regulation without timer (surface-mounted)
Part no.: 8172 Switching power: 16 A
Electronic regulation with timer (flush-mounted)
Part no.: 8171 Switching power: 16 A
Installation instructions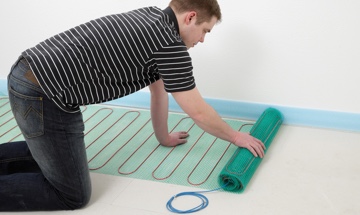 A solid, clean surface consisting of concrete, dry screed or existing tiles is a prerequisite for correct laying. Before laying the heating mats, you are recommended to use a deep-penetrating primer.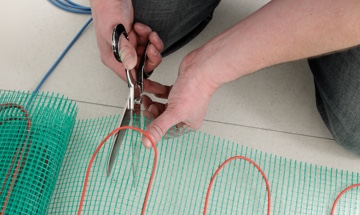 The heating mat is placed on one side of the room, rolled out, cut through when the end of the room is reached, folded over to the side, attached and rolled back in the opposite direction.
Please also note the possible installation models in the assembly and installation instructions (PDF file).
There should be a gap of 7 cm between the heating mat lanes. After laying the heating mat and checking the resistance values, the mat is covered with flexible tile adhesive or liquid filler to create a flush surface, thereby fixing it in place. For surfaces other than tiles, the first layer must be 5 mm thick.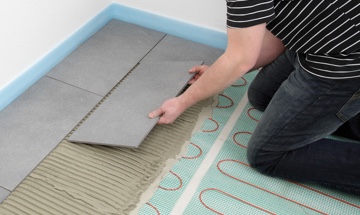 Tile adhesive suitable for use on underfloor heating is applied to the dry filler layer so that the ceramic tiles can be laid. Other kinds of flooring are laid as per manufacturer specifications as long as they are suitable for underfloor heating.
To finish off, a regulator can be connected.
Frequently asked questions about the electric underfloor temperature control system
Please consult the data sheets together with the assembly and installation instructions. Subject to technical changes as part of further development.
Can the heating cable be shortened?
No, this should never be done. If the heating cable is shortened on the fibrous material, the warranty will be rendered null and void. If the heating mat is too big, the heating area can be made smaller by reducing the cable spacing on the fibrous material (to a minimum of 4 cm). This increases the output per m².
Can the heating cable be removed from the fibrous material?
Yes. The fibrous material is only intended to make it easier to lay the heating cables. However, it must be ensured that the entire heating cable is set in suitable pourable mortar in the floor.
TIP: The heating cable can be reattached to the fibre mat using a hot-glue gun.
Can several heating mats be connected to the same regulator?
Yes. A heating surface area of up to 15 m² can be connected to one regulator (16 A). With heating areas larger than 15 m², the output of the heating mats must be controlled via an additional contactor. In this case, the regulator switches on the underfloor temperature control system via the contactor. Alternatively, several regulators can be used. Here, it must be ensured that areas to be controlled are separated by an expansion joint.
Can the PTC resistor be shortened?
The PTC resistors can be shortened by up to 10 cm in front of the gland.
Can thin-bed heating systems be used outdoors?
Installation in an allotment hut is not a problem. However, the heating mats are not suitable for installation on pavements or stairs outdoors. We offer an open-space heating system for outdoor use.