Hot-water underfloor temperature control
The ultra-flat hot-water underfloor temperature control system for retrofitting
The Perobe hot-water underfloor temperature control system is an ultra-flat hot-water surface heating installation. The thin-bed system (heating tube diameters of (8 mm) is just the thing when you want to retrofit underfloor heating for temperature control and makes made-to-measure warmth available at low temperatures, even in existing buildings.
Maximum comfort for your home in just a few steps
The surface heating element is ideal for controlling the temperature in children's rooms, bathrooms, kitchens, hobby rooms, holiday homes, allotment huts, offices, showrooms, salerooms and basically anywhere where you want things to be warm and cosy.
Surfaces:
All concrete and wooden surfaces are suitable. What's more, the Watertherm system can be used as both a wall and underfloor heater.
Mat system:
Perobe Watertherm is supplied as a ready-made mat system too, ensuring error-free, accurate and straightforward installation.
Connection:
The installation is connected to an existing hot-water heating system provided that the supply temperature does not exceed 60° Celsius or to the normal heating facility using a return temperature limiter in the case of higher system temperatures.
Regulators:
A regulator is required for full functionality. Suitable regulators for the hot-water underfloor temperature control system can be found here.
Hot-water underfloor temperature control with 8 mm heating mat + connection set (performance details available on request)
| Area | Dimensions | PTC thermistor length |
| --- | --- | --- |
| 1.0 m² | 0.75 m x 1.34 m | 2.0 m |
| 2.5 m² | 0.75 m x 3.33 m | 2.0 m |
| 5.0 m² | 2 x 0.75 m x 3.33 m | 2 x 2.0 m |
| 7.5 m² | 3 x 0.75 m x 3.33 m | 3 x 2.0 m |
| 10.0 m² | 4 x 0.75 m x 3.33 m | 4 x 2.0 m |
Installation instructions
A solid, clean surface consisting of concrete, dry screed or existing tiles is a prerequisite for correct laying. Before laying the heating mats, you are recommended to use a deep-penetrating primer.
The heating mat is placed on one side of the room, rolled out, cut through when the end of the room is reached, folded over to the side, attached and rolled back in the opposite direction. Also note the possible installation models in the assembly and installation instructions (available as a PDF file).
There should be a gap of 10 cm between the heating mat lanes.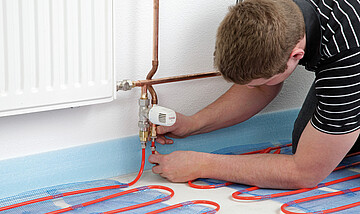 The heating mats are fixed in place using the dowel pins and then filled in with flexible, pourable bed mortar to create a flush surface (tiles) or covered with 5 mm of filler (other surfaces).
Installation tip: If the tubes are raised at the sides of the heating mat, they can be fixed down temporarily with nail clamps.
Tile adhesive suitable for use on underfloor heating is applied to the dry filler layer so that the ceramic tiles can be laid. Other kinds of flooring are laid as per manufacturer specifications as long as they are suitable for underfloor heating.
Frequently asked questions about the hot-water underfloor temperature control system
Please consult the data sheets together with the assembly and installation instructions. Subject to technical changes as part of further development.
Can the heating mats be extended or shortened?
The actual heating mat should not be extended because this would increase the flow resistance. Shortening the heating mats on the other hand is not a problem. When laying several heating mats, the following must be taken into account:
If the plastic tube of one of the heating mats is shortened, the other heating mats should be shortened by the same length for hydraulic reasons.
Can the plastic tubes get clogged?
The surface structure of plastic tubes is so smooth (in comparison to metal) that limescale or silt is hardly able to accumulate. The sediments cannot settle and are continuously flushed through. Our connection manifolds are designed to allow individual tubes to be flushed at any time. The following measures are recommended to prevent clogging:
Add an oxygen binder / corrosion inhibitor to the heating water.
Fit a dirt separator in the system's heating boiler return line.
On what surfaces can I install the underfloor heating system?
All substructures on which the underfloor heating system is fitted must be dry, of sufficient age, solid, clean, free of release agents, dirt and cracks, and rigid. The surfaces should be primed before laying the underfloor heating system.
Can several heating mats be connected at the same point?
A heating surface area of up to 15 m² can be connected at one point (radiator connection). All heating mats need to be the same size for this. The entire surface area can then be regulated using a return temperature limiter. In the case of larger surface areas, a heating circuit manifold should be installed centrally.
Does the area below the underfloor heating system have to be insulated?
If the underfloor heating system is installed with direct contact to the soil, a layer of insulation is required otherwise the thermal energy will be lost. This insulation layer can be in the form of a WEDI board or a decoupling mat, for example.
Can laminate, carpet or parquet be laid on the underfloor heating system?
All parquet or laminate floors suitable for use with underfloor heating can be laid on the underfloor heating system. For this purpose, the respective manufacturer must approve their flooring for use with underfloor heating. During installation, it must be ensured that the mortar covers the plastic tubes by at least 5 mm.
When fitting an underfloor heating system, the best results are achieved with tile flooring.