Perotac wet system
The low-cost hot-water underfloor heating system for old and new buildings
Maximum comfort for your home in just a few steps
The hot-water underfloor heating system is delivered as a complete kit with all the necessary components such as system panels, heating tube and regulator, etc.<br/> The PEROTAC system is a reasonably priced, easy-to-assemble complete heating system designed primarily for new buildings.
The thermal insulation panels coated with aluminium foil ensure optimal, even heat transfer and distribution.
The tested oxygen-tight PEROBE heating tube guarantees a long service life.
When developing this system, PEROBE focused on the requirements of do-it-yourself building and consistently designed it so that it is suitable for straightforward one-person assembly of all components.
The construction height is 140 mm (with additional thermal insulation) or 96 mm against heated rooms.
Polystyrene rigid foam insulation panel to DIN 18965 and DIN 4108.
An affixed sheet of aluminium foil for optimal heat distribution and transfer makes laying the tube easy at the same time thanks to the printed basic 5 x 5 cm grid.
The system panel dimensions are 1000 x 500 x 30 mm. The heating tube can be installed with gaps of 10, 15, 20 or 25 cm. The heat output depends on how the tube is spaced and how high the flow temperature is.
| Area | Dimensions |
| --- | --- |
| W / D / H | 0.5 m x 1.0 m x 0.03 m |
Installation instructions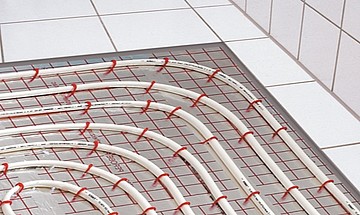 Everything you need to lay the hot-water underfloor heating system is:
Edge insulation strips, system panels, aluminium tape, PEROBE heating tubes and fastening clips.
A clean and level surface is required.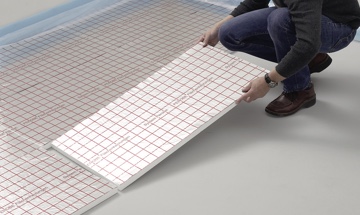 Lay the edge insulation strips and aluminium-coated system panels.
The system panels are stuck to one another and to the edge insulation strip using aluminium tape.
A printed basic grid helps to lay the heating tube. The heating tube is fastened to the system panel using "tube retaining clips".
After connecting the tubes and checking that they are tight, the screed (containing an admixture!) is applied.
The system is connected and regulated via return temperature limiters for smaller areas and via heating circuit manifolds, room thermostats and zone valves in all other cases.