Electric temperature control film
for connecting to existing power supplies and suitable for parquet and laminate floors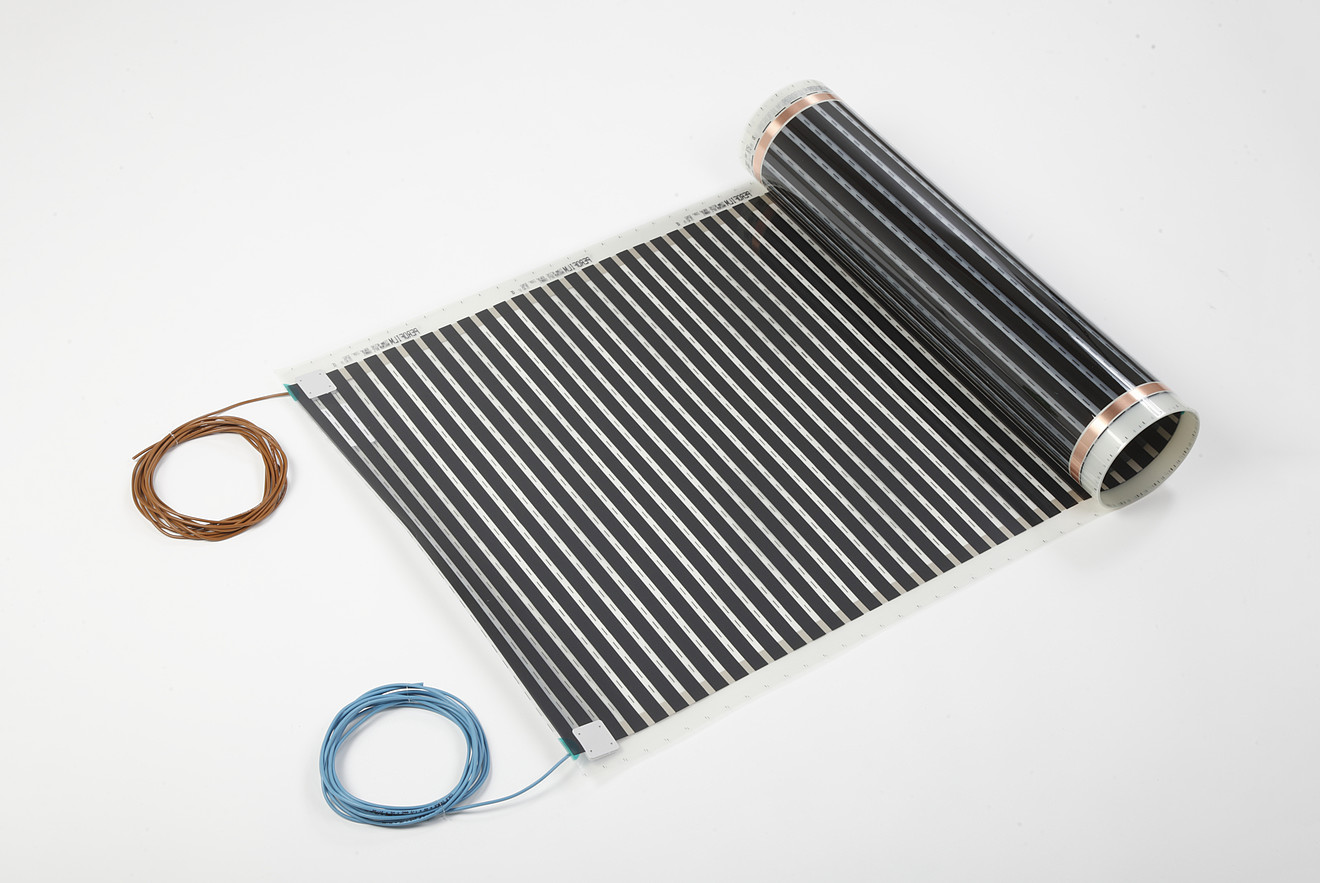 Electric temperature control film (230 V~)
| Area | Dimensions | Output |
| --- | --- | --- |
| 1.5 m² | 2.5 m x 0.6 m | 120 W |
| 2.1 m² | 3.5 m x 0.6 m | 168 W |
| 2.7 m² | 4.5 m x 0.6 m | 216 W |
| 3.3 m² | 5.5 m x 0.6 m | 264 W |
Installation instructions
Lay an XPS board with a thickness of 5 mm on the existing surface. This stops the heat from dissipating downwards.
Place the film at one side of the room and roll it out.
Now connect the heating lines to the existing central heating system and check that everything is properly sealed.
Then lay a vapour barrier over the mat.
The surface covering can now be put on top.
Connect the regulator and the heating system is ready for operation.
Frequently asked questions about the electric underfloor temperature control film
Please consult the data sheets together with the assembly and installation instructions. Subject to technical changes as part of further development.
Are cables allowed to cross over the heating film?
No. The heating film must never come into contact with fixtures and other cables.
Can the heating film be repaired?
Heating films cannot be repaired. However, you can continue to use the heating film in the following cases:
If the film is damaged in the copper area, green polyester must be stuck on top of it.
If the black area is damaged, green polyester must again be stuck on top of the film. This ensures that the heating film no longer gets warm in this area.
Note: The repair should only be carried out by a qualified electrician otherwise the warranty will be rendered null and void.
How do you connect several heating films to the same regulator?
Several heating films are generally connected to the regulator in parallel. They should be wired via terminal strips which can be housed in the flush-mounted box behind the regulator or below the regulator.
Please note that only a maximum of 15 m² of heating film can be connected to the same regulator.
Can several films be connected to the same regulator?
Yes. A heating surface area of up to 15 m² can be connected to one regulator (16 A). With heating areas larger than 15 m², the output of the heating film must be controlled via an additional contactor. In this case, the regulator switches on the underfloor temperature control system via the contactor. Alternatively, several regulators can be used. Here, it must be ensured that areas to be controlled are separated by an expansion joint.